So for those that didn't see my first post about it you can find it here:
viewtopic.php?f=4&t=999
I basically dusted my old 3D Cad pacakage off and got to designing for the Phantom.
Today I took delivery of the revised version of the Custome FPV Undertray as well as a few more designs that I have created.
This will be a long ass post I hope it will be worth it for a bit of feedback.
EDIT: Pic of it during a succesful flight test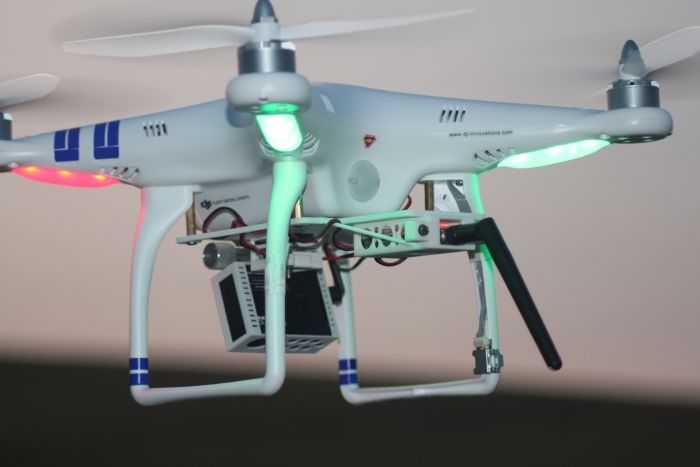 All that I had made this time can be seen here: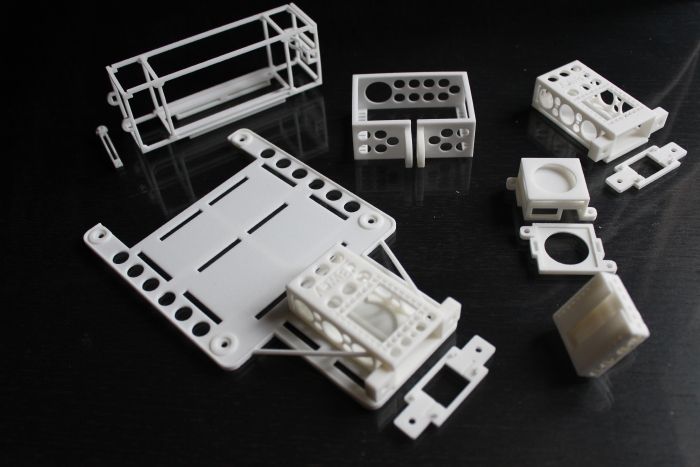 And this is a basic overview of what they all are intended for: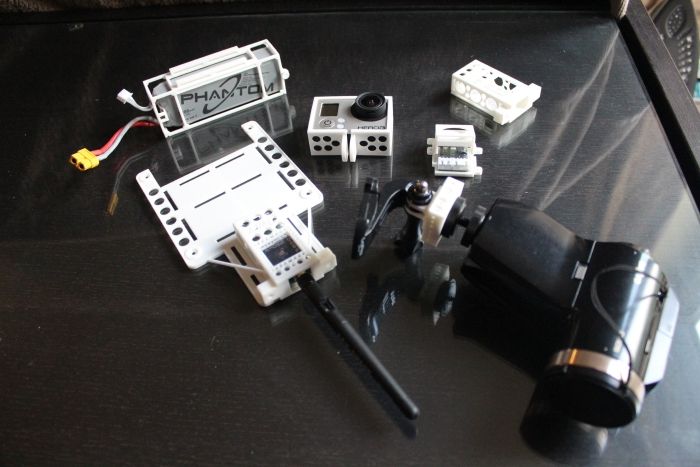 This is with the Phantom fully loaded with it all! I will explain each item over the course of this post: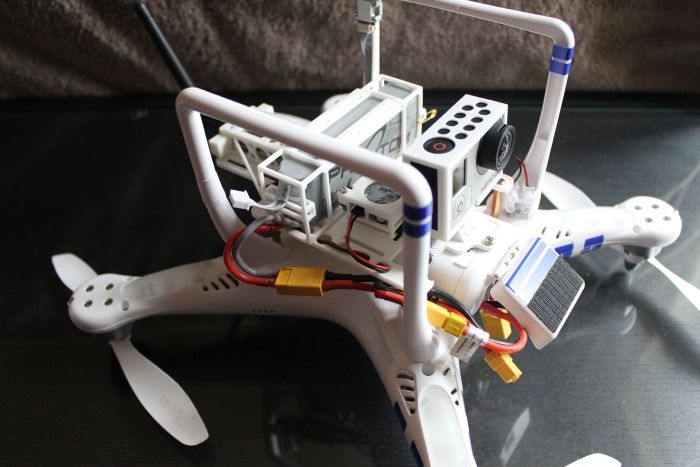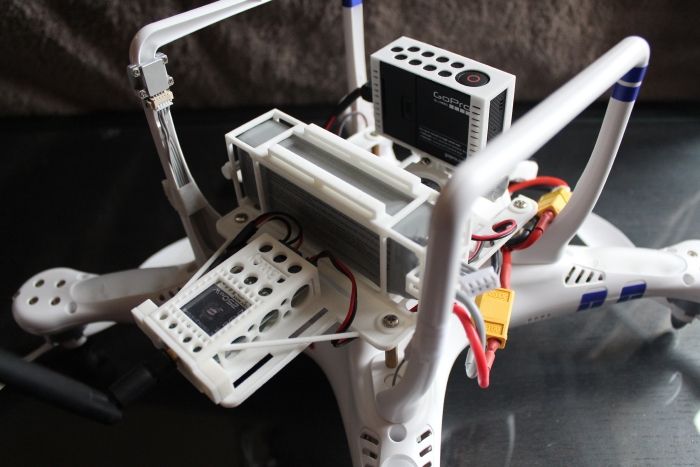 So what exactly is all this?...
- Revision 2 of the custom Phantom Undertray with TX holder (designed around the Fatshark 250mw TX). 22 grams.
- Dual battery frame (holds a second battery to the undertray or can be velcro strapped) - 7 grams
- Stand alone TX holder (can be velcro strapped or velcro adhered) - 8 grams
- Fatshark Filter housing (the small filter that comes with the Predator V2) - 4 grams
- GoPro Hero3 frame - pretty much the same as the one they sell but - 4 grams
- Gopro to Hotshoe mount (allows fitting of any camera with a 1/4 inch tripo thread such as the Drift HD or Contour).
Revision 2 of the Custom FPV Undertray.
Shown below is the transition from Sandwich box cut out concept to final strengthened design: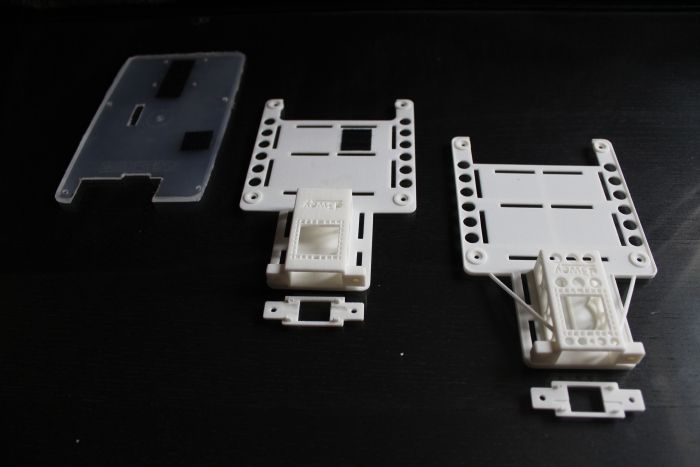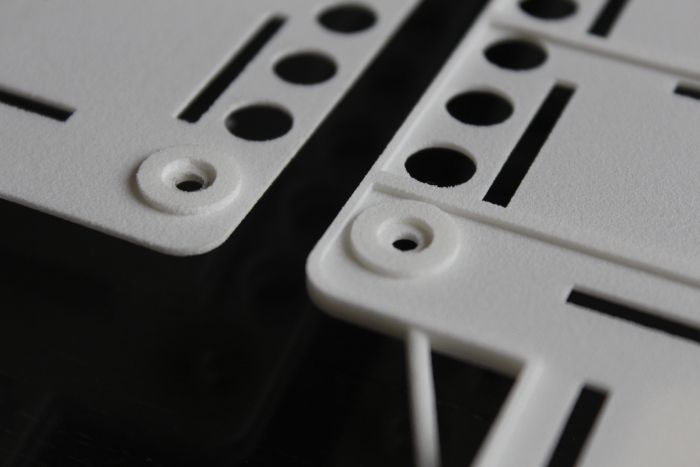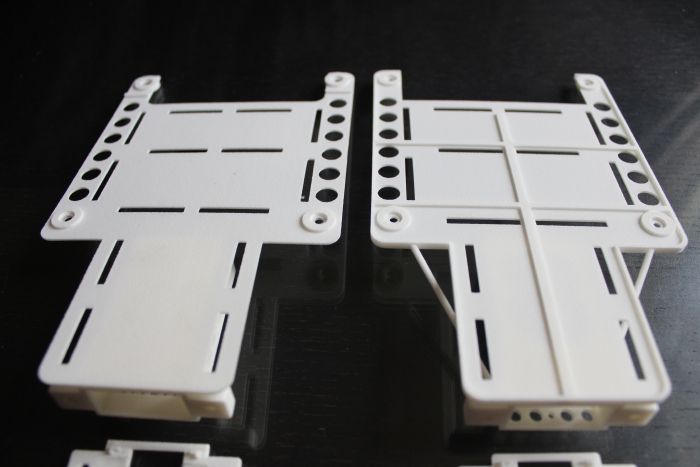 The revision basically added strength and backbone to. A 3mm edge and 3mm support frame makes it a lot more rigid than the MK1. I also shaved some deadweight grams from the TX holder so the MK2 is stronger but lighter (and cheaper to build!).
Mk1 (seen below on the left) was a little too flimsy. I made the Mk2 stronger. Note the extra fat saving holes all over the TX. It is still very solid but lighter. You can also see a groove in the TX holder's door which holds it nice and snuggly.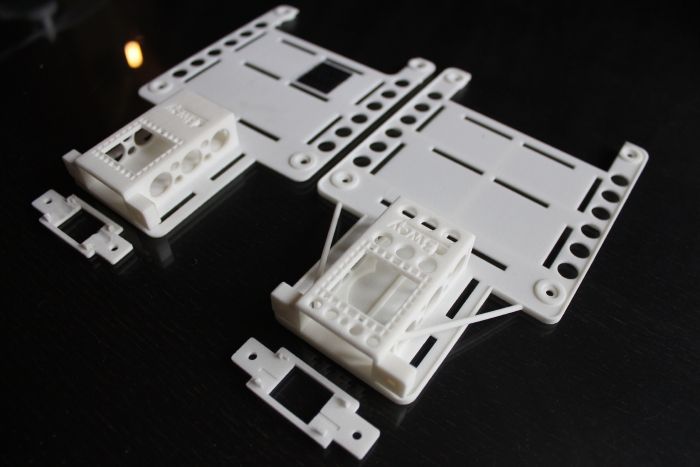 Mounting to the Phantom:
For those that didn't read my first thread, the undertray mounts via 4 x 25mm male to female brass hex spacers which replace the innermost screw of the landing legs. They simply screw into the existing threads and then the stock screws are then reused to secure the undertray (shown here with the Fatshark filter housing mounted... explained later on):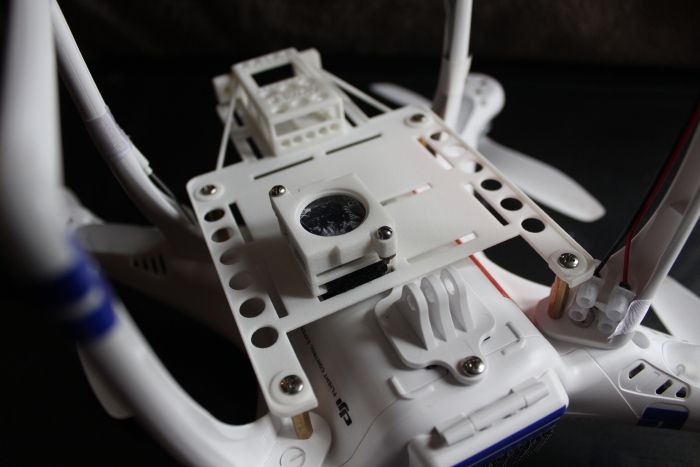 TX slots in here as before. The door is secured with 3mm nut and bolts: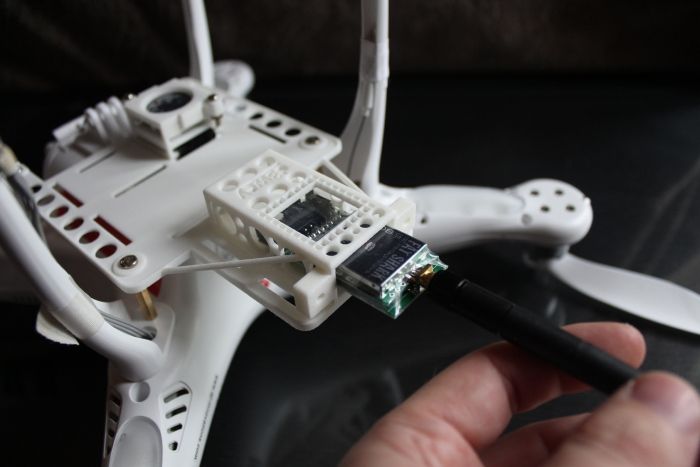 Slight change to improve how the plugs slot in: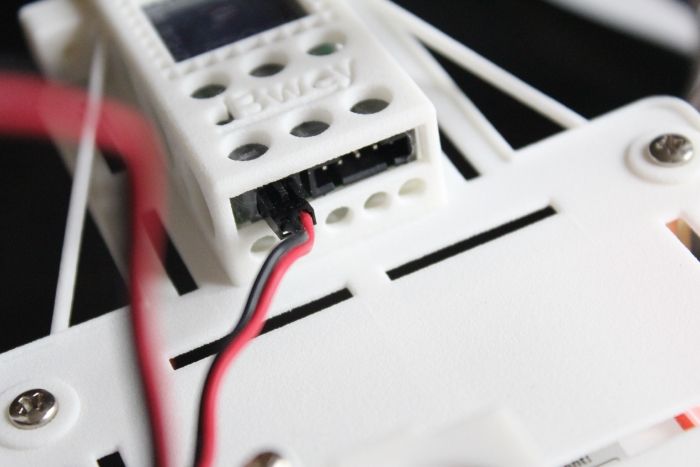 Cables route through the holes: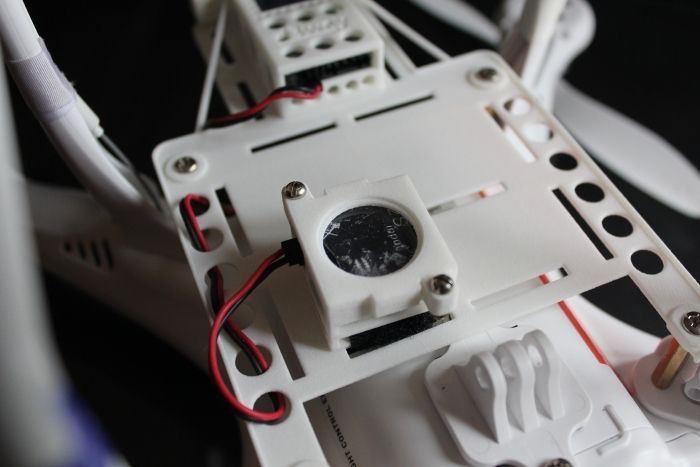 Fatshark Filter Housing
The filter that comes with the Predator V2 was less 'lumpy' than the TX and had a flat surface to stick velcro too but it bugged me. So I came up with this: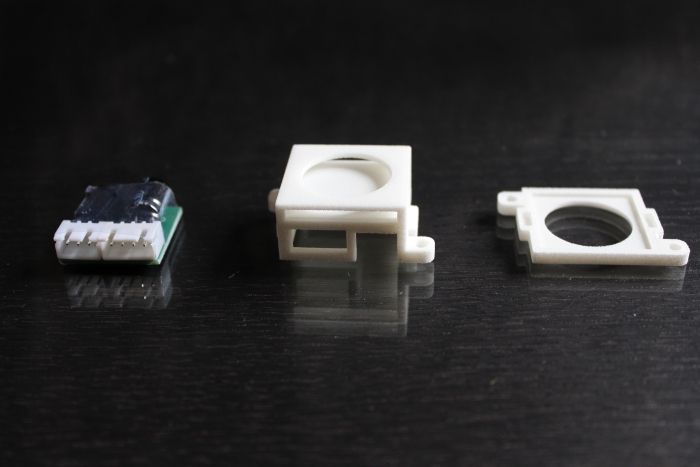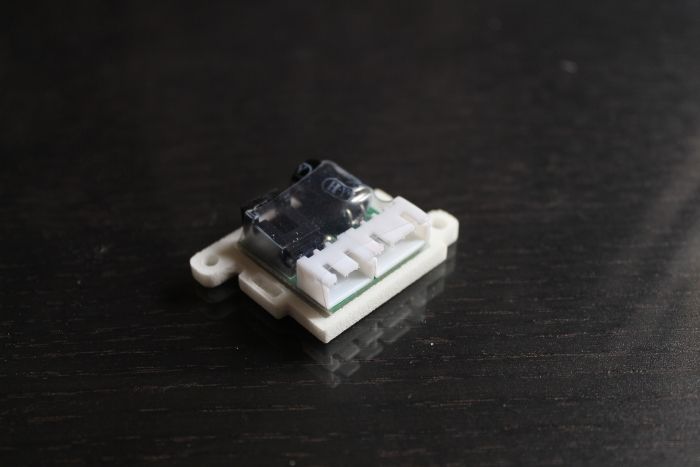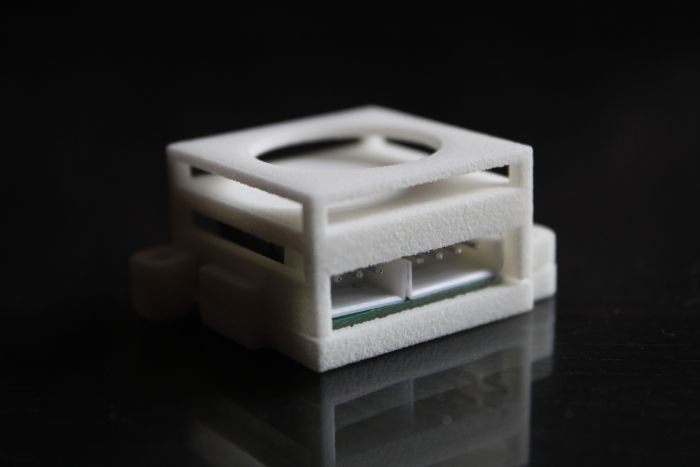 I created a slot for velcro straps to hold it to the undertray. You can still use adhesive velcro too.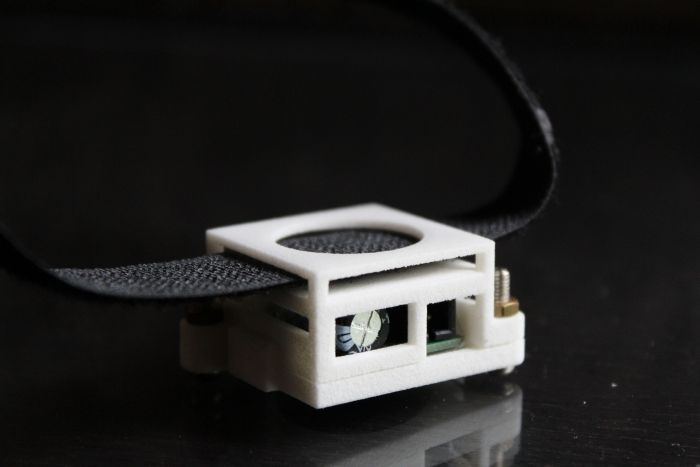 Strapped onto the slots in the undertray: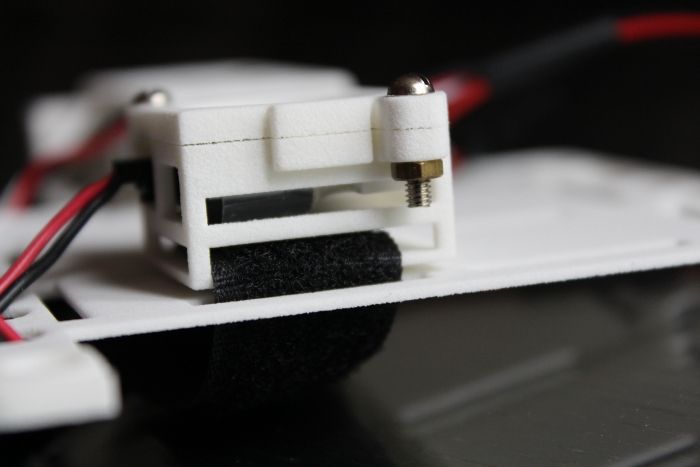 Battery Tray
The idea of this is to house a second battery under the Phantom's belly that can be connected in parallel to another battery in the usual slot.
The batt slots into the cradle: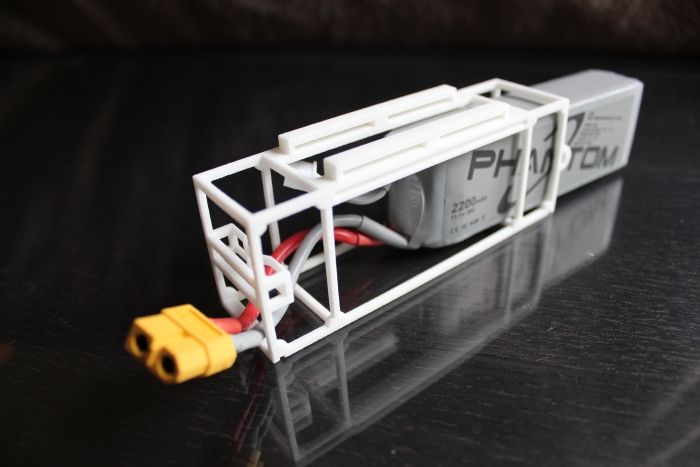 The cradle has a sprung end to allow a tight fit: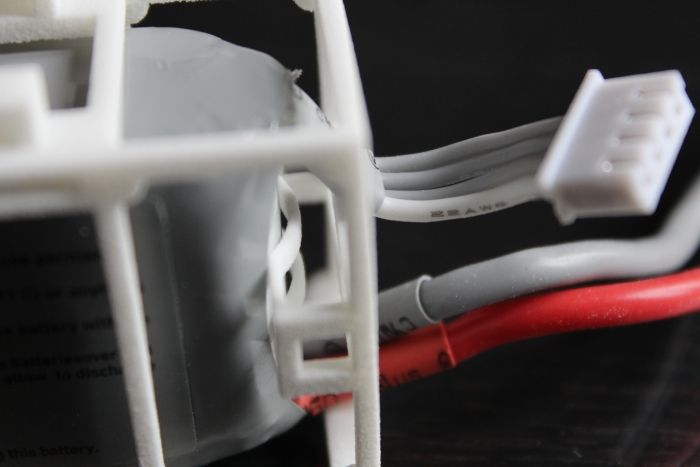 A securing pin then slides into its slot and is held by a securing pin. This looks less solid than it actually is as the nylon has plenty of give.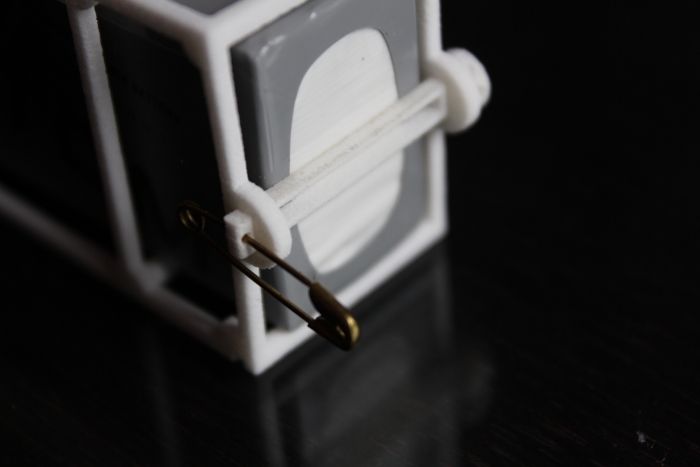 The cradle then mounts to the undertray. There are grooves in it to stop it slopping around but it can also be turned upside down to mount to other trays with slots.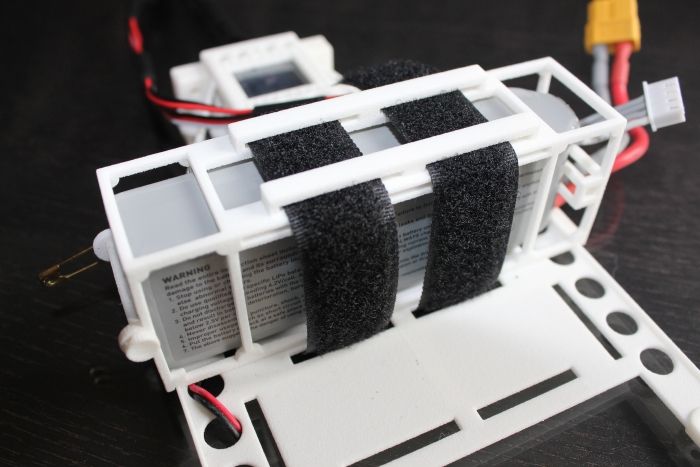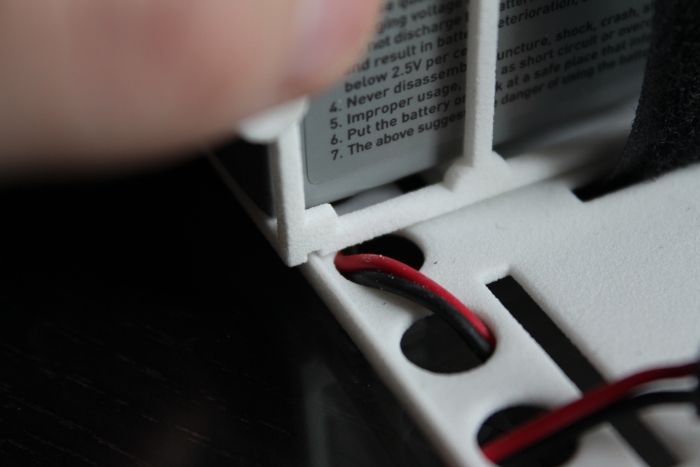 Standalone TX Holder
Nothing too complex here but being that I will put these for sale on Shapeways I thought people might like the option to house the TX but not be tied to buying the whole undertray.
This is the same design as the one that is part of the undertray but it incorporates a flat top for Velcro adhesive mount and a slot for Velcro strapping.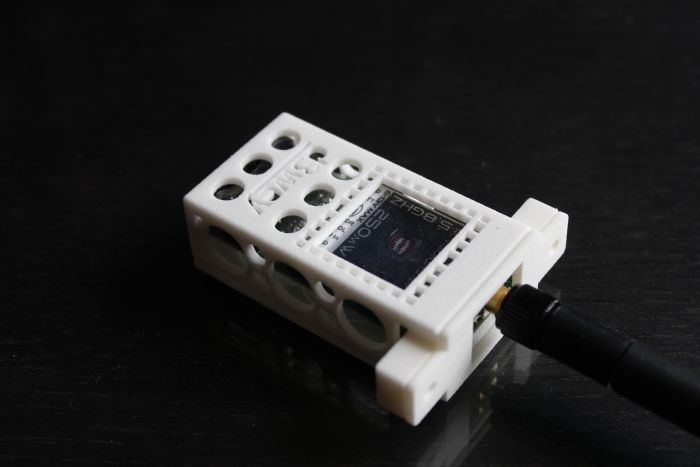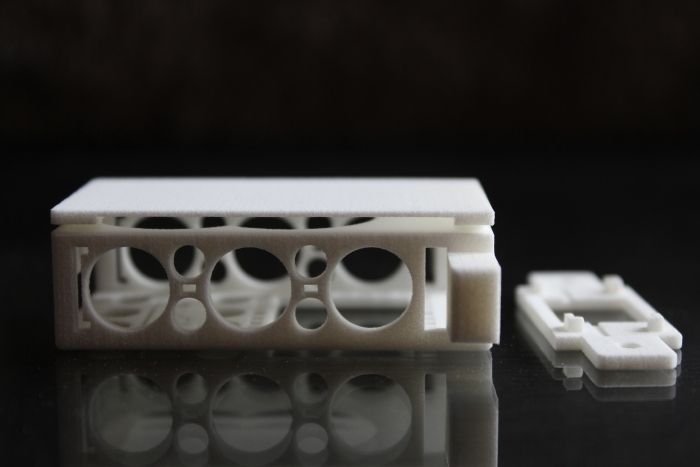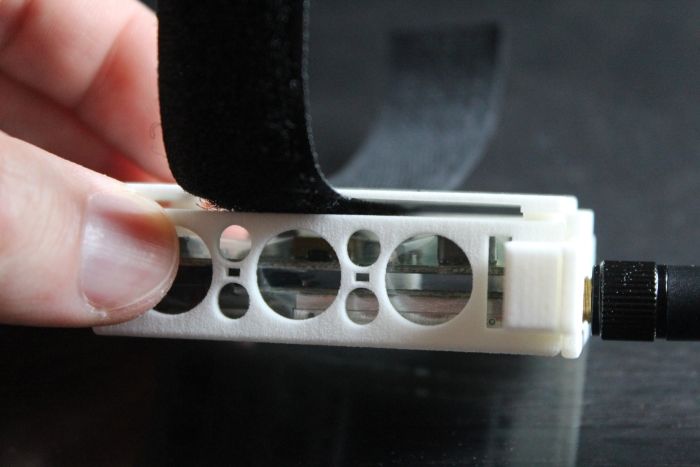 GoPro Frame
Simple, cheap, easy to use. I love GoPro's products and the Hero3 especially but in the UK £40 + £8 p&p for the Frame is an outright scandal. Granted you get two sizes with theirs but I got this made on Shapeways for peanuts and the Nylon is perfect for flexibility and best of all it is 4grams. I didn't really make it JUST for the Phantom but it is 10 grams lighter than the DJI mount and doesn't need a spacer for the Hero3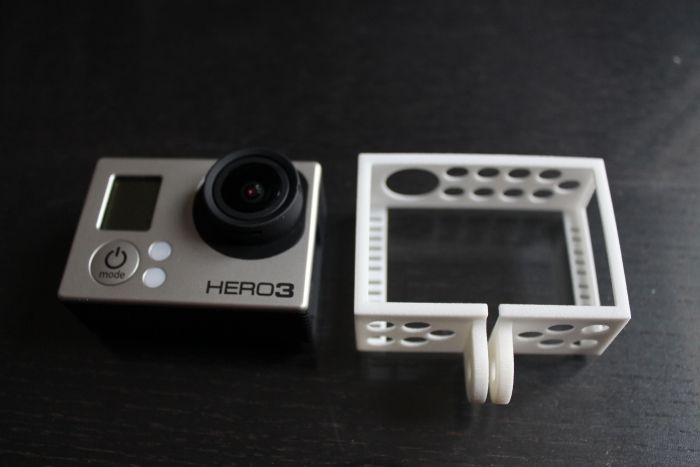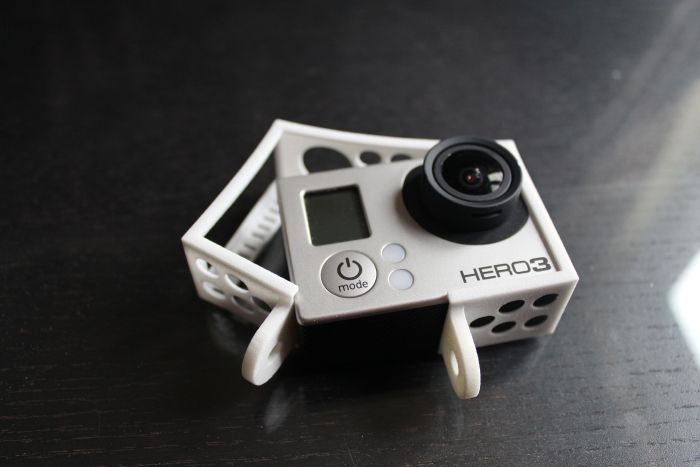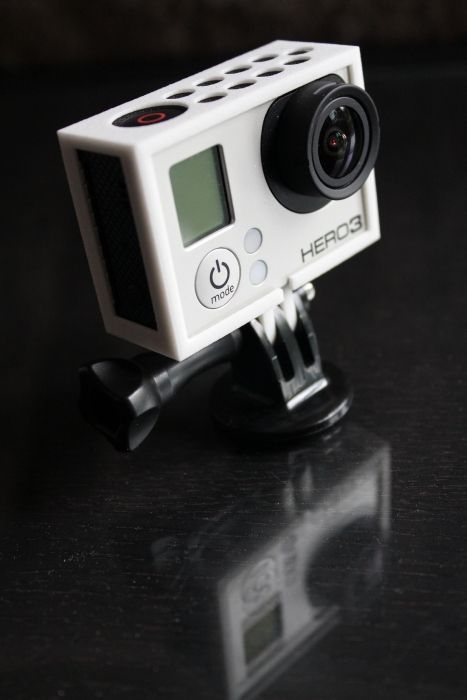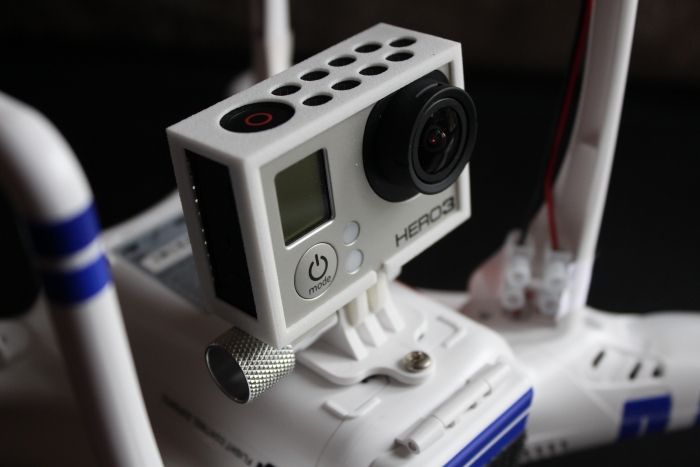 Hotshoe to GoPro mount
This was a design stemmed from a Drift HD owner but can be used on any camera with a tripod thread in it (within reason from a size/weight perspective!). It is basically a camera flash 'hotshoe' with a GoPro mount. For £2.50 on ebay you can by the converter (the black thing). This slots into the hotshoe and you simply tighten it down: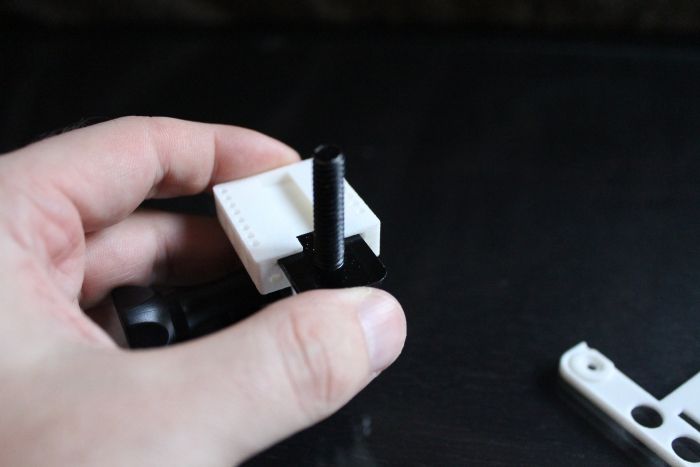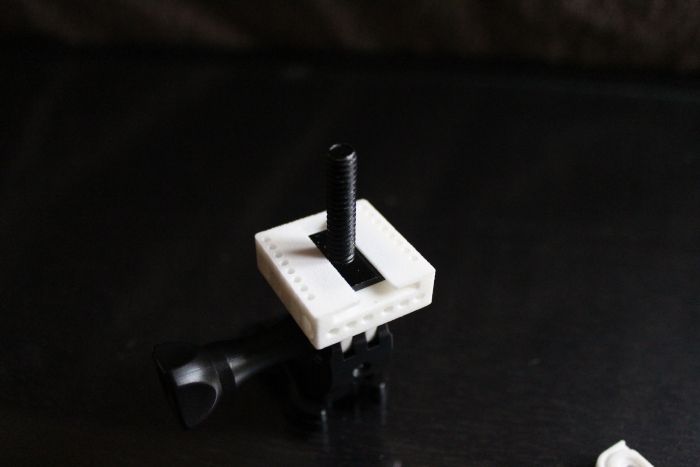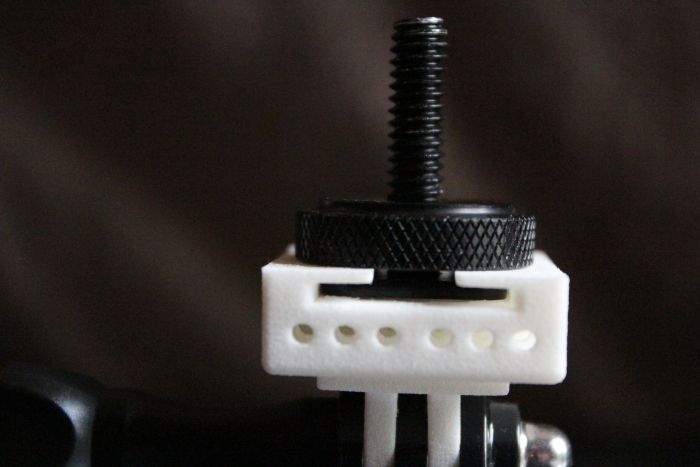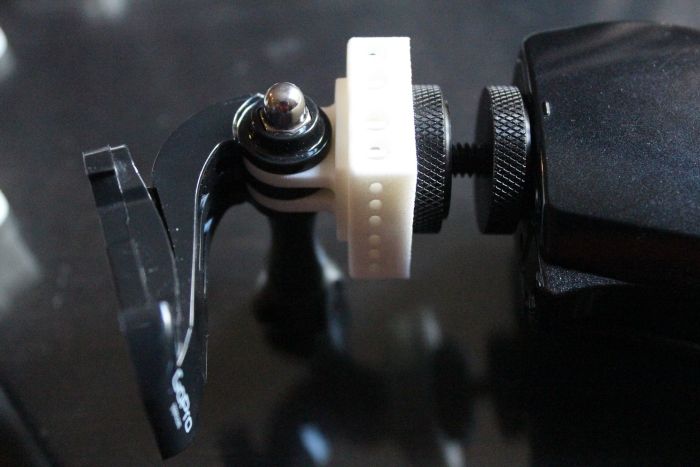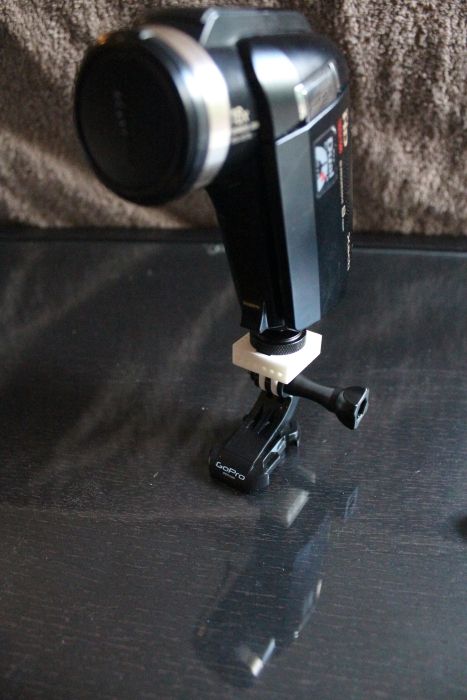 (no I won't be flying with that cam attached!
)
Phew... that was a lot of organising to post! So thats it. I will take it out tomorrow and take some pics of it all 'in flight' hopefully.
I should note that the Phantom with stock battery, MK2 undertray + battery cage (with battery in it) + GoPro cage + Fatshark Predator V2 TX and Filter comes to 1170 grams so just under the weight limit.
All going well I will get these on Shapeways for sale this week (flight test pending) in case people are interested in any of it.